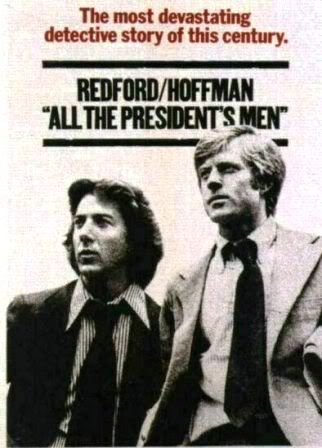 Alan J. Pakula gives a talky, political presentation in the Academy Award winning film All the President's Men (1976). Based off the book (same name), about the story of Washington Post reporters Bob Woodward's (played by Robert Redford) and later assigned Carl Bernstein's (played by Dustin Hoffman)  investigation into the Watergate scandal.
Unlike other New Hollywood films, the movie had a hard way to keep the viewer engaged since there were hardly any dramatic confrontations and maybe took the view of journalism too serious. Everyone knows what lies in the end and in return the only thing to focus on is technical and acting performances and sequences. The character friendship between a WASP and a Jewish reporter could be blown up for dramatic effect, especially in their differences trying to work together throughout the movie. What would be suited for a boring narrative story is thankfully cancelled with witty news room humor.
One scene where both Woodward and Bernstein escape from their safe-haven office to venture out to meet a possible source in the dangerous and unsuspecting Washington streets is visualized perfectly through the lighting. As both Woodward and Bernstein emerge from the shadows of a parking lot to artificial light which portrays them as reporters usually are: shadowy figures but in true internet are the mouth of truth.
William Goldman though, who created the base of the movie essentially before Pakula changed it all, structured the film to keep on building on clues and build a soft thriller. In conclusion, this political investigator movie does well for what it was intended to do, grab success in the box office due to big names such as Redford and Hoffman.